Back to News and Events
TOWARDS PROSPEROUS ASEAN MSMES
When I am invited to speak in different forums and gatherings, I like to emphasize that the micro, small and medium enterprises are the backbone of the Philippine economy. Truth be told, that is a reality not only for our country, but also for many of our ASEAN brothers. In fact, the statistics read show MSMEs represent about 95 to 99 percent of ASEAN businesses, depending on which country you reside in. In the Philippines, we clock the number to 99.66 percent. These numbers not only show the power of MSMEs to develop our nation and region, but also the urgency by which we should address it.
Since the start of Go Negosyo, the advocacy has always been about promoting an entrepreneurial nation. Today, it cannot be denied that entrepreneurs can be found everywhere. They permeate every facet of our daily lives. From the street vendors you encounter on your daily commute, to online shops that invade your digital space, entrepreneurs can be found virtually everywhere. However, despite the proliferation of entrepreneurship in our country, why is then that only few benefit from a thriving economy?
When only 0.4 percent control and truly benefit from the business culture in our country, there is much work to be done. The advocacy now of Go Negosyo has evolved from simply promoting an entrepreneurial culture into focusing on uplifting the micro and small enterprises to scale-up.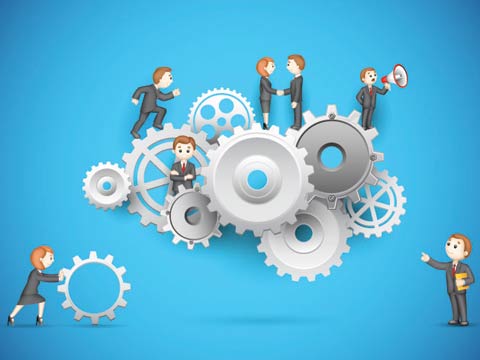 On July 14 at the Philippine International Convention Center, the Department of Trade and Industry will hold its MSME summit under the guidance of Secretary Ramon Lopez, the event's keynote speaker. He worked for RFM Corporation for more than 20 years as a senior executive and was the executive director of Go Negosyo. He has been a great partner of mine since the beginning of Go Negosyo's crusade to help MSMEs scale. Thankfully, through his tireless efforts and dedicated service, MSMEs are increasingly becoming the center of trade and economic policy.
In the months leading up to the MSME summit, there have been rigorous roundtable discussions conducted with the brightest minds in various fields in order to determine the most important and immediate topics that would become the central focus of the summit. I was fortunate to be a part of the discussions where I heard the inputs of experts in the field of entrepreneurship, economics, agriculture, markets and technology.
 As a result of the discussions, the pre-determined topics that will be discussed in the summit will tackle the 7Ms Towards a Shared Prosperity in ASEAN, meaning mindset, mastery, mentoring, markets, money, machines, and models. Those topics will be discussed in integrated sessions with panels of experts. I am personally looking forward to joining the keynote forum entitled Promoting ASEAN MSMEs for Prosperity along with my co-panelists — Sen. Miguel Zubiri, Rep. Peter Unabia, BSP Governor Nestor Espenilla Jr., Datuk Hafsah Hashim (CEO, SME Corporation Malaysia); and Mr. Kurt Wee(president, Association of Small and Medium Enterprises (Singapore).
 Panel discussions consist the bulk of the summit and will be graced by experts from across the ASEAN. Session M1: Promoting MSME Development Mindset will discuss ways on how to train and orient entrepreneurs on the right entrepreneurial characteristics and attitude and its panel is made up of Le Duy Binh (CEO, Economica Viet Nam); Fatin Arifin (marketing manager, Brunei Halal Foods); Cecilio Pedro (owner, Laomoiyan Corporation); Benjamin Quiñones (chairman, Asian Solidarity Economy Council).
 Session M2 & M3: Mastery and Mentoring Toward Competitiveness and Resilience will discuss the core principles of entrepreneurship to gain competence and the know-how on effective ways to scan and seize market opportunities; to identify gaps and unmet needs, and, to maximize the entrepreneur's strengths, passion and experience. Panelists for the session are Norlela Suhailee (chair, ASEAN Coordinating Committee on MSMEs) (to be confirmed); Jay Yuvallos (chair, MSME Working Group, ASEAN Business Advisory Council); and Francisco Lapid (entrep mentor & best-selling author).
Session M4: Accessing Domestic and Regional Markets will tackle initiatives on how markets are made more accessible to MSMEs through various platforms like ecommerce and linking small businesses in the global value and supply chains with panelists Datuk Hafsah Hashim (CEO, SME Corporation Malaysia); Nora Terrado (chairperson, ASEAN 2017 Committee on Business and Investment Promotions); U Moe Kyaw (managing director, Myanmar Marketing Research and Development); and Justin Uy (founder & owner, Profood International Corp.).
Session M5: Overcoming Money Hurdles is a session on the ways financial inclusion can be achieved for MSMEs and will be discussd by Frans Purnama (chairman, Indonesia Microfinance Association); Jaime Garchitorena (president & CEO, Credit Information Corporation); Nicole Paterno (co-founder & CEO, 1000 Angels); and Griselda Santos (senior financial specialist, World Bank – IFC (Philippines)).
Lastly, Session M6 & M7: Machines and Proactive Business Models Toward Productive and Responsive MSMEs will discuss initiatives on how MSMEs can access modern machines so as to upgrade technology, raise productivity, and improve marketability of their products and services. The panel will feature Chankiriroth Sim (vice president, Young Entrepreneurs Association of Cambodia); Aushim Merchant (CEO, Alphasakorn Polymer & Energy Co.); Sam Cristopher Lim (director,  Philippine Franchise Association); and Jeannie Javelosa (founder and director, ECHOstore and GREAT Women). 
Looking forward, I can see a very productive and enlightening MSME summit underway. The closing session called Way Forward for ASEAN MSME Development will effectively bring together all the ideas that will come up during the summit and provide direction on how to proceed with MSME development in the region. Secretary Ramon Lopez who is the current ASEAN Economic Minister chair, will lead his fellow economic ministers namely Pehin Dato Lim Jock Seng (Brunei Darusallam), Pan Sorasak (Cambodia), Khemmani Pholsena (Lao PDR), Dato' Sri Mustapa Mohamed, and Kyaw Win (Myanmar) in giving inspirational messages and insights regarding the discussions and summit.
With all these sectors, experts and government representatives coming together in the name of MSME development and prosperity for all, I am truly optimistic for a bright future ahead for our country and ASEAN brothers.
* * *
On July 19, I will be speaking during the International Conference of the Philippine Franchise Association called Franchise Asia Philippines 2017. I will give the keynote address entitled "Replicating Prosperity Across the ASEAN Region" aligned with the conference's theme "Innovate and Replicate: ASEAN Rising."
PhilStar
6 July 2017